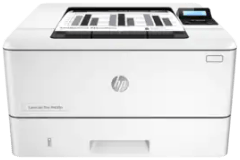 HP LaserJet Pro 4003n driver download. Windows 11, 10, 8.1, 8, 7 & macOS 13.x – 10.12 / Mac OS X 10.11 – 10.9. Latest software to install your equipment.
Capabilities: Print, Ethernet, set up, maintenance, customize.
Type: Setup software.
Windows 32/64-bit – Ethernet & USB installation
Apple Mac – Ethernet & USB installation
If you prefer, you can also use AirPrint.
About the files
Windows:
Version: 54.4.5271
Size: 160.9 MB
Language: Multiple languages.
Release date: June 2022.
Description: The full solution software includes everything you need to install and use your HP printer. This collection of software includes the complete set of drivers, installer software, and other administrative tools.
Mac:
Version: 2.13.3.221209
Size: 10.9 MB
Language: Multiple languages.
Release date: February 2023.
Description: HP Easy Start is the new way to set up your HP printer and prepare your Mac for printing. HP Easy Start will locate and install the latest software for your printer and then guide you through printer setup.
Supported operating systems
Microsoft
Windows 11.
Windows 10, 8.1, 8, 7.
Apple
macOS:

13.x Ventura
12.x Monterey
11.x Big Sur.
10.15 Catalina.
10.14 Mojave.
10.13 High Sierra.
10.12 Sierra
Mac OS X:

10.11 El Capitan.
10.10 Yosemite.
10.9 Mavericks.
Hardware details
Product: HP LaserJet Pro 4003n.
Type: Monochrome.
Update history
Windows
v16.0.19135.668:
Fixed the security vulnerability.
Mac
v2.13.3.221209:
Update some basic information in installation screen.