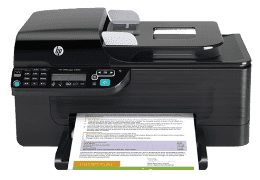 HP OfficeJet 4500 driver:You can install your printer without having to download a driver, instead, you will use the driver integrated into Windows.
Software features: Print, scan, copy, set up, maintenance, customize, verify ink cartridges levels.
Language: Multilanguage (International).
Windows 11, 10, 8.1, 8, 7
Install the driver and software compatible with your HP printer that are included with your operating system. To do this, let's see the steps necessary to configure a USB printer connection in Windows without installing any additional drivers.
1) Search for "Change device installation settings" in Windows and open it. Make sure to choose the recommended option of "Yes."
2) Verify that there is an available USB port on your computer. Avoid connecting the printer to a USB hub or docking station, as it may not receive sufficient power to function correctly
3) Start the printer by powering it on, and then establish connectivity by connecting the USB cable to both the printer and the computer port.
4) If a "Found new hardware" message appears, simply follow any prompts that are displayed to proceed with the printer installation.
Successful installation of the driver is indicated if you can print without any issues.
If you are unable to print, proceed with the following steps to add the printer in the Windows settings.
5) In Windows, search for "Printers and Scanners" and open "Add a printer or scanner".
6) Choose the option "Add a printer or scanner" and give Windows a moment to scan for any printers that are available
In case your printer is identified, click on it, and then click "Add device" to successfully install the driver.
If your printer is not detected, proceed with the following steps to continue the process.
7) Click on "The printer that I want isn't listed" option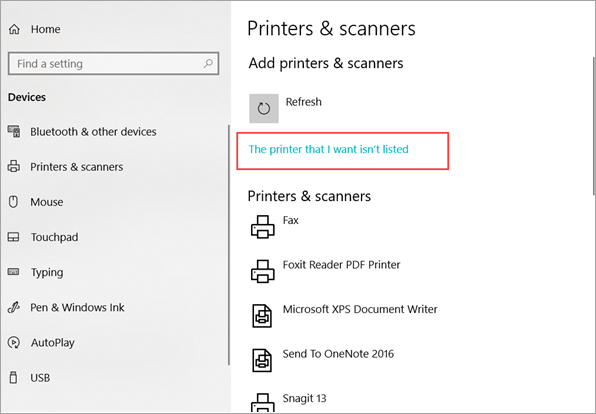 8) In the Find a printer by other options window, select Add a local printer or network printer with manual settings, and then click Next.
9) In the "Choose a printer port" window, choose "Use an existing port," then select "USB001: (Virtual printer port for USB)" from the drop-down menu, and click on "Next."
10) Follow the provided instructions to successfully install the driver for your printer model.
Microsoft
Windows 10 32 & 64-bit.
Windows 8.1 32 & 64-bit.
Windows 8 32 & 64-bit.
Windows 7 32 & 64-bit.
Equipment / Hardware details
Identification: HP OfficeJet 4500.
Type: All in one printer (Multifunction).
Functions: Print, scan, copy.
Wireless feature: Yes.
Usage: Home.